Courses are one of the most popular forms of learning English. Therefore, the great demand for them gives rise to numerous proposals. The abundance of choice can cause a person some confusion. But don't be upset. Indeed, thanks to this choice, you can always choose the most suitable option for the cost, the goal, the schedule of classes, etc.
What are the training programs for the courses?
Before you start looking for courses, think carefully about why you are going there, and how the services offered to you correspond to this goal. For example, you want to learn a language for general development, for work, for traveling abroad, for going to college, etc. The form and program of study largely depend on what you are going to study English for. Perhaps you need to pay special attention to spoken English if you are going on a tourist trip, or you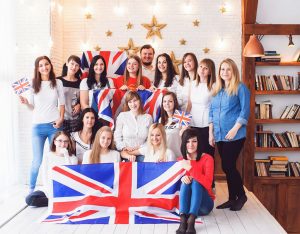 were pushed to learn the language by the need to fluently translate documents at work. In addition, you can choose courses on the topic you need, where you can type the appropriate vocabulary (for example, in the field of tourism, business, art, etc.). You will get the result only if you set yourself the task correctly and select the appropriate program for it. The duration of the course may vary: from 2 weeks to 5 years. Of course, the term also largely depends on the purpose of the training. For example, if you just need to learn how to answer phone calls in English, there is no point in long-term training. In many other cases, it is better to choose a longer process of acquiring knowledge (at least 6 months, 2 times a week for 2 academic hours).
Which organization should you choose?
It is best to graduate from courses where there are unified methodological centers. As a rule, such centers exist at higher educational institutions, international language schools. Here, teachers rely on a single proven teaching methodology and a balanced program. In addition, such courses have a good material and technical base (you will have all the resources of the educational institution at your disposal – a library, computers, premises, etc.). Courses at universities and international language schools are stable, and you can be sure that you graduate from them, and your studies will not be postponed indefinitely due to the lack of a group (it is easier for large training centers to survive in the face of the strongest competition that exists among educational institutions) … If you decide to graduate from courses at a university, remember that the institute that provides you with services for teaching foreign languages ​​must specialize in this particular type of activity (in your case, it is better to complete English courses at the Institute of Foreign Languages ​​or at organizations such as the Ministry of Foreign Affairs).
Selection criteria for English courses:
Teachers.
One of the most important criteria for selecting courses is the qualifications of the instructors. Immediately, we note that the presence of diplomas, certificates, etc., does not always determine the level of qualifications, although this should also be present. It is good if the courses are taught by graduates of good linguistic universities, or specialists with international certificates – IHC, CELTA, DELTA, CEELT. In some places, native speakers teach directly, but it will be difficult for an ordinary person to immediately determine how strong the teachers are in front of him. Therefore, find out if they are constantly working on the courses, or if all the teachers are coming. It is best to graduate from courses where teachers work constantly and rely on a single proven teaching methodology. In this case, you can be insured against the situation when a new teacher comes from outside with his own teaching methods, which may not always be effective.
Teaching methods.
Another important component when choosing English courses is the teaching methodology, the choice of which is also determined by the purpose for which you go to the courses. In general, all techniques can be divided into 2 types: traditional and non-traditional. You may have seen an example of traditional teaching methods at school. Here the main focus is on the study of grammar, translations, retellings, etc. are done. This method is indispensable if you need translation skills. If you want to master spoken English, try some of the unconventional methods, however, do not get too carried away. NOT ALL IS GOOD WHAT IS UNCONVENTIONAL. One of the methods that has already shown itself to be the most effective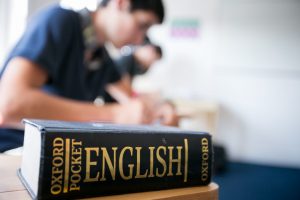 is the so-called communicative method, according to which practically all Western schools existing in Russia work. It consists in an integrated approach to teaching foreign languages. With its help, the skills of speaking, listening, writing, reading are practiced. There are many different teaching methods. It is hardly worth describing all of them, because, as a rule, before entering the courses, they will definitely tell you about the teaching methodology. We advise you to listen to everyone in detail and choose the most suitable option.
Groups.
Pay attention to the size of the group. It is best if it does not exceed ten people. In this case, you will be able to get enough attention from the teacher, and you will always be under his control, which will exclude the possibility of your misunderstanding of grammar, or misunderstanding of it at all, incorrect pronunciation, etc.
License.
Be sure to pay attention to the presence of the license, the address indicated in it, the validity period, the permitted activities. Ask how long the courses have existed – the stability of your learning depends on it. After all, any educational institution is not built in one day or even a year, but failures that can occur during the initial period of the work of any company, first of all, will affect your educational process.
Testing.
Take a test and go to a free trial lesson, if such a service is included in the course. By the way, by looking at the free lessons, you will be able to get in touch with the learning process on these courses more closely, and you will have a real opportunity to compare.
Where can I find information about courses?
The most convenient way is to search the Internet. You can enter a question in a search engine, for example, "English courses", and you will receive information about the courses.